An e-mail signature is a block of text that is appended to the end of an e-mail message you send. Generally, a signature is used to provide the recipient with your name, e-mail address, business contact information, or Web site URL. Some people, however, will use a signature to sign off their e-mail message with a closing statement, funny quote or other message. A signature file, or sig as it is often called, can easily be created in most e-mail clients. You will have the option to always attach the signature to all outgoing e-mails or add the signature in specific outgoing e-mails. In outlook creating Signature is very easy, This guide will help you to create signature in all the version of the Outlook.
Steps:
Go to File –> Options. If you are using Ms Office 2007 You should go to Tools –> Options.

Click Mail from the side pane. Outlook 2007 users should click Mail Format from the top of the window.
Click Signatures.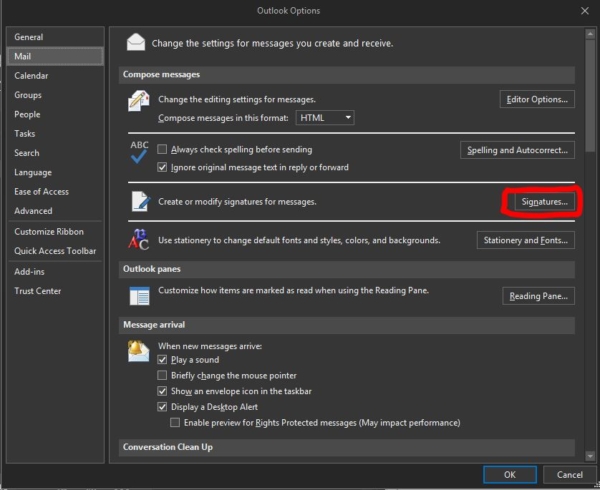 Click New.
If you configured more than one mail in the outlook ,be sure to select the correct one you want a signature for from the Email account drop-down menu off to the right.
Type a name for your new email signature and then click OK. If you're going to have a different signature for each email account, like for work and personal accounts, it's best to name them accordingly.
Type your email signature into the box provided under the Edit signature section.
Once you successfully created the signature Choose the signature from the drop-down for New Messages and  Replies/Forwards.