On Windows 10, you can set an accent color to match your wallpaper, or to contrast with it. You have the choice to let Windows select the right color based on the wallpaper or you can select any color by yourself. In Windows 10 build 15002 recent color feature was added so that user can switch back to the old color whenever you want. This feature saves last 5 accent color history. This Tutorial will show how to clear Recent Colors History in windows 10.
Method 1: Manually editing the Registry editor.
Close the personalize and open run command and type regedit and hit enter
Navigate to the below mentioned path or copy and paste the path in the search field of registry editor.
HKEY_CURRENT_USER\Software\Microsoft\Windows\CurrentVersion\Themes\History\Colors

From left hand side click on the colors folder, In right hand side you can see 5 color history registry paths.
Select all 5-color history and delete it.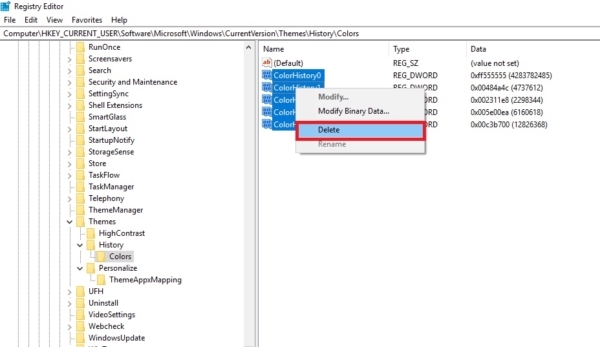 Restart the system once to make it effective.
Method 2: Download and merge the Registry File.
Click here

to download the registry file.
Double click on the reg file and merge it.
Restart the PC to make it effective