Windows Media Encoder is a discontinued freeware media encoder that allows you to convert and record both live and prerecorded audio and video. This tool encodes videos by using Windows Media Video version 7, 8 or 10. Regarding audio, this application uses Windows Media Audio version 9.2 or version 10. Bear in mind that using version 10 requires special codecs to be installed.
Windows Media Encoder supports two-pass encoding in order to enhance the quality for on-demand content. Another useful feature of this tool is variable bitrate that can be used for high-motion sequences in order to ensure the highest quality. This application supports scripted encoding with wmcmd.vbs VBScript file thus allowing users to encode large number of media files.
And also, you can create audio ranging from voice-only content to multichannel, and you can encode video from low data rate screen capture to HD quality (1080i/1080p). Compressed videos can be fine-tuned by using the new encoding modes.
Windows Media Encoder's advanced features are also available on older operating systems, like Windows XP and Windows 2000, so you don't need to upgrade to the latest OS to create high-quality video content.Some other advanced options of Windows Media Encoder that you may be interested in are its new codecs that improve output quality, the two new encoding modes (constant-bit-rate and variable-bit-rate) that allow you to adjust fine-tune settings, language support for specifying the language of your content, support for sourcing from additional file formats, and frame-level seeking.
Windows Media Encoder is also available in a x64 edition, which includes the features of the 32-bit edition and some extra updates (the VC-1 video codec and the DRM Protect Utility).This Encoder was discontinued after 2011, Its not developed after 2011, the update was stopped by Microsoft.

So if you are using an older versions of windows like windows 7, Xp you can download and install. The encoder works well on those windows versions.
This post explains how to install Windows Media Encoder on windows 10.
Software Requirements: Download windows Media Encoder from here.
Step to Install Windows Media Encoder:
First check and download the correct versions which is suitable for your PC.
You can't install the versions directly it will show an error like below screen shot.

To bypass that DirectX prompt, you first need to manually extract the contents of the WMEncoder64.exe file. To do this, you need to open

command line prompt

and type the following:
WMEncoder.exe /C /T:"C:\Extracted"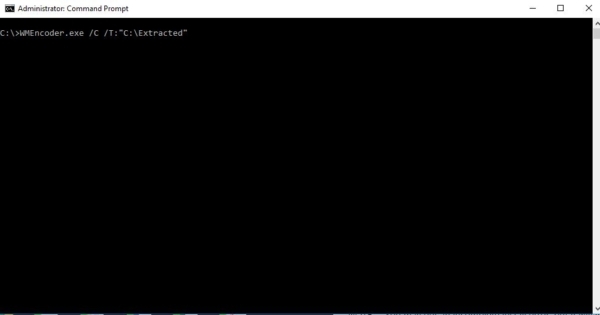 NOTE:You can replace "C:\Extracted" with whatever path you want
You will then see the following files:
ADVPACK.DLL
W95INF16.DLL
W95INF32.DLL
wmenc.inf
WMEncoder64.msi
wmencq.inf
wmencqa.inf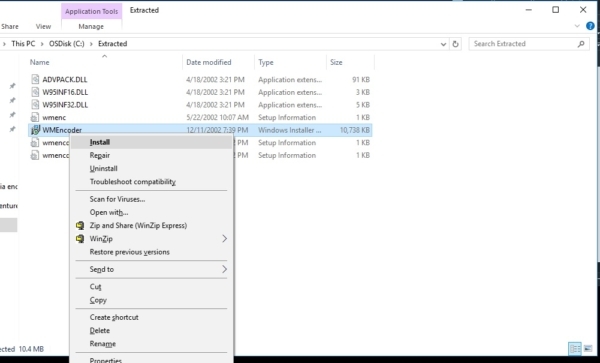 Then all you have to do is run the "WMEncoder64.msi" file and it will install to "C:\Program Files\Windows Media Components\"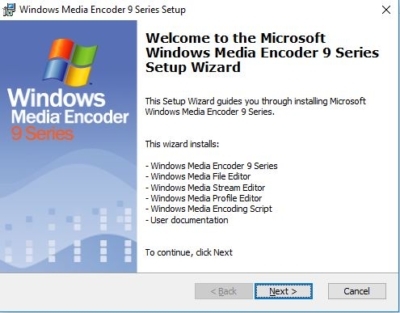 NOTE : You may get an incomplete install error, but it will install.
You will also see the "Windows Media" folder on the start menu with all the utilities there.
Readers if you found any error while installing kindly mention the error in the comments.