If you are a windows 10 user, for your kind attention New installations of windows 10 1709 also known as falls creator update comes without support for the HEVC codec. Most of the user don't aware of this missing functionality. To enable this functionality, you may install the HEVC Video Extension from the Microsoft Store to restore the functionality. Microsoft removed support for the HEVC codec from Windows 10 Fall Creators Update for new installations. Systems that are upgraded to the Fall Creators Update version are not affected, as the codec is carried over in that scenario.
Users who try to play videos that require the codec will get a black screen or an error message instead depending on the app or program they use to access the content. This is true even for Microsoft's own programs such as official Movies & TV application.
So Why this codec was removed?
As per the Microsoft update their answer was. "HEVC and HEIF files are only supported by Apple devices. As of now, there are no apps or programs that run on Windows 10 that can support HEVC codecs and HEIF files."
So, if we need this functionality Microsoft asks user to send feedback to add this back in future updates.
What is HEVC codec?
High Efficiency Video Coding (HEVC), also known as H.265 and MPEG-H Part 2, is a video compression standard, one of several potential successors to the widely used AVC (H.264 or MPEG-4 Part 10). In simple terms a codec is a combination of compressor and decompressor it is a software that is used to compress and decompress the digital media file such as song or video. Windows 10 remove this codec from 1709. But we don't want to check for some other players for this functionality.
Microsoft have its own HEVAC extension, you can download and add this app directly from the Microsoft store.
If you Found difficulties to download click here and download directly.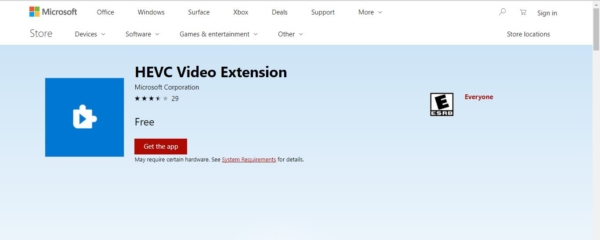 The HEVC Video Extension enables compatible Windows 10 devices to play video using the HEVC format in any app, including 4K and Ultra HD content. Compatible devices support HEVC in hardware, including Intel 7th Generation Core processors and other modern GPUs. If you are not using a compatible device, this extension will have no effect on your Windows 10 video experience.