BITS also know as Background Intelligent Transfer Service Which is used to control the network usage while updating windows, The service was mostly used by system administrators and programmers to share the files from the web servers, The main concern for this service is to control the network usage while working on some other task. For example if you are working on a particular task on your system, at that time the windows system will get the update and it's downloading the update, if BITS were not enabled in your system the Network utilization will be shared among all the task, so that you can get enough network to continue your work. BITS will handle the network interruptions and it is very intelligent to manage the network, it will pause and resumes the transfer automatically. BITS can be control using PowerShell command also we can easily create cmdlet for creating and managing transfers. Have you wondered about how the windows managing the windows  updates and how it is getting the latest patches from the Microsoft, This service use a little concept as working principle, i think readers use torrent or any kind download manager to download movies or games, For windows update the BITS service Works like a Download manager and other associate services makes it possible, So if you are facing any issue in downloading windows update check the BITS service is running or not.  Recently one user reported that he is not able to start the BITS service and he got an error like "BITS will not start error 2147023828", If You got an error as I mentioned below, Kindly follow the below mentioned resolution steps to resolve.
Background intelligent transfer service did not start properly
Background intelligent transfer service will not start
Background intelligent transfer service has stopped working
BITS will not start error 2147023828
Resolution 1: Check the BITS service is set to automatic
First Thing we have to check that BITS service is started in Automatic or manual.
Go To Control Panel and Search for Administrative Tools and click on services.
OR You can press Windows + R to open run command and type services.msc to open service management console.
Now search for BITS (Background intelligent transfer service), Right click on BITS and choose properties.

Make sure the BITS Services is automatic if it is manual you can change the startup type to Automatic.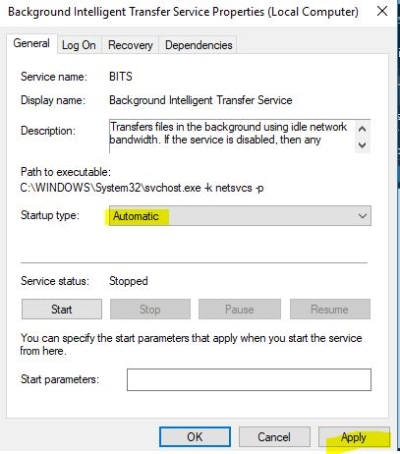 Now Try to start the Service, If the Service is not starting, Follow the remaining resolution steps.
Resolution 2: Check the Dependent Services are Running.
There are some Dependent services which are very important to keep the BITS service to run. Make sure the dependency list for the BITS services are Running, Find the dependent services below.
Terminal Services
Remote Procedure Call (RPC)
System Event Notification
Windows Management Instrumentation Driver Extensions
COM+ Event System
DCOM Server Process Launcher
Network List Service 
Open Run command and type Service.msc, Search for each and every services that I mentioned above are running, if not start the services. Once you verified that all the services are running restart the system once and try to start the BITS service, I hope that service will start.
For further BITS Troubleshooting click here.